On-street parking
There is a a multi-storey car park in the Westgate at Oxford
Follow 'Westgate' signs if coming by car or follow your sat nav to 'Thames Street' and look for turn signs into the underground car park.  It's then a 20 minute brisk walk across town to reach St Giles Church. You could also catch a 300 Park & Ride bus towards Pear Tree from Westgate (stop E4). Elsewhere, parking isn't easy. The Street Parking areas, including in St Giles itself (evening parking ticket from 6:30 is £6.60) are often full by early evening on a Saturday. Most side roads in North Oxford have residential priority and strictly enforced time restrictions, even at weekends; you need to read the information signs in each street carefully before parking. The Park and Ride services (see note below) are more convenient for direct access to the church.
Disabled access
Our South door has a portable ramp which can be mounted to allow wheelchair access. Please advise us in advance of any special requirements. Space is limited; it's helpful if you can let us know in advance so that we can move furniture to allow access and wheelchair seating for you. Wheelchair access to the level entrance at the North door from Woodstock Road may be restricted by the band's vehicles. Parking outside or near the church is often possible using disabled parking permits.
Park and Ride
The simplest solution for visitors is to use the Stagecoach Bus 7 from the Water Eaton Park and Ride which runs back at 22:17 on Saturdays. It drops off and picks up at the Keble Road stop in Banbury Road next to the church. The Pear Tree Park and Ride 300 service returns at 21:58 and later and comes down on the Woodstock Road which is on the other side of the church. It is equally convenient though it is slightly further to walk from the church to the bus stop. The stops are shown on the map below.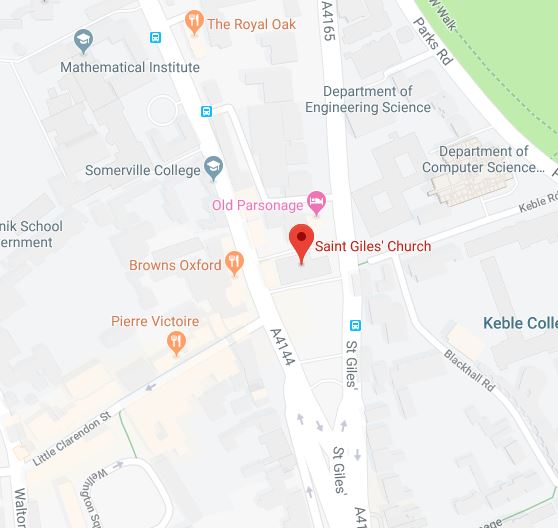 ---
Train travel

---