Brigitte Beraha featuring George Crowley, Alcyona Mick and Tim Giles
Saturday -
October
29,
2022
7:30pm
Brigitte Beraha featuring George Crowley, Alcyona Mick and Tim Giles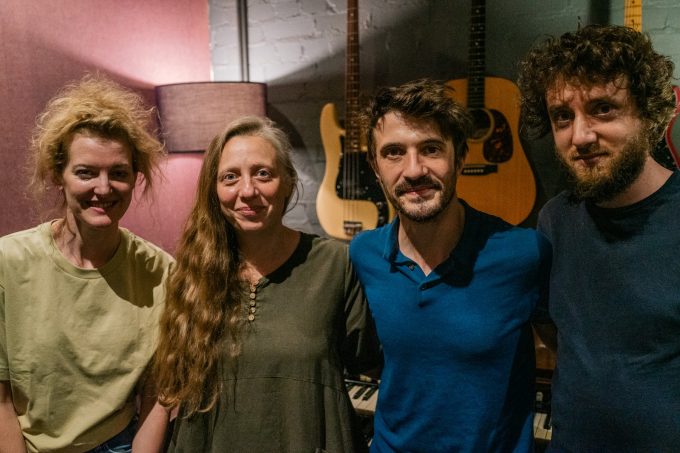 'One of the most adventurous vocalists around, a musical explorer…' The Jazzmann
Brigitte Beraha - Voice, George Crowley - Reeds, Alcyona Mick - Piano & Tim Giles - Drums.
Born in Milan to a Turkish father and Turkish-British mother, Beraha grew up on the Côte d'Azur in France where her first music memories are of sitting and listening to her dad play piano and sing. This musical, multinational and multilingual upbringing combined to inspire and mould one of the most creative vocalists and composers on the UK scene.
Embracing a wide variety of music influences and genres, from jazz and latin to classical and, more recently, electronic, Beraha's sound is free and fluid with an emphasis on exploration and expression. She has worked with a wide range of musicians from Bobby Wellins to Yazz Ahmed and recorded a number of critically acclaimed albums. More recently, Beraha has also been involved in a number of cross-genre projects such as the recreation of Basil Kirchin's music as part of Hull City of Culture 2017 with the BBC Concert Orchestra, the re-imagining of Eddie Parker's 12-piece Debussy Mirrored Ensemble, and Raising Hell with Henry Purcell led by Ethan Iverson at Kings Place in 2018.
George Crowley, saxophonist, clarinettist, composer and promoter, is a key player within London's creative jazz and improv scene and is also increasingly well-known across the UK and in Europe. As a performer he is active across a range of styles and his energy and expressive, warm saxophone are equal to none. He can be found playing with bands and musicians such as Yazz Ahmed, Melt Yourself Down, Julian Argüelles' Septet, Rick Simpson's Klämmer and the Olie Brice Quartet featuring Jeff Williams.
Alcyona Mick, pianist and composer, works at the forefront of the London jazz scene and has been performing internationally for many years. She is a member of the London Jazz Orchestra and works regularly with many artists including Tori Freestone/Alcyona Mick duo, Natacha Atlas, John Warren Nonet, Mircan Kaya, Randolph Matthews, Eddie Parker Debussy Mirrored Ensemble, and Yazz Ahmed. She has performed with Ingrid and Christine Jensen/Whirlwind Big Band, Bachar Zarkan, Nikki Iles Big Band, Samy Bishai, Jerry Dammers and many more.
Tim Giles, award-winning drummer and composer, was a child prodigy, performing internationally with saxophonists Iain Ballamy and Stan Sulzmann while still in his teens. Since then he has gone on to play with many notable musicians, ranging from American jazz greats such as Art Farmer and Charles McPhearson to celebrated UK players such as Kenny Wheeler, Norma Winstone and Bobby Wellins. His own quintet, Fraud, started in collaboration with saxophonist James Allsopp, was born out of a joint aim to blend improvisation with composed music.
share: