Karen Street and Streetworks
Saturday -
September
24,
2016
7:30pm
St Giles' Church Oxford
Karen Street and Streetworks
Karen Street with Streetworks
Karen Street - Accordion/Saxophone
Will Harris - Bass
Mike Outram - Guitar
Andy Tweed - Saxophone(s)
JASG's Jeanne Darke writes: "We're congratulating ourselves on being 'canny' and 'streetwise' (forgive the pun), in having captured, for our opening concert, the much in demand Karen Street and her "Streetworks" band. Karen's reputation as a composer of offbeat and witty compositions are a delight and her skill on both the tenor sax and accordion (acc.by renowned Mike Outram on guitar, Andy Tweed on sax, and WillHarris on bass, is thrilling. Versatile Karen, who founded the all female "The Fairer Sax" has lately been performing with Welsh National Opera!  Her compositions for childrens' instrumental groups are well known and widely used. A delightful and exciting opening concert."
Karen has a rare ability to create really memorable tunes. Couple this with her skill as an arranger and a group of players whose individual and collective sounds are truly beautiful and the results are performances and recordings that audiences really engage with, that are sometimes intimate and often witty.   Her influences are wide-ranging; jazz, folk, the inevitable influence of Tango (so often associated with the accordion), with nods to Central Europe.
We are very grateful indeed for the generous support of our various sponsors, including our next-door neighbours at The Old Parsonage Hotel and others.  See our 'Sponsors' page for more details. Sponsorship will help the 2016 JASG concerts to support 'War Child' and 'Save The Children' once again.
---
Tickets £12/£10 (concessions)/£5 Students with ID
---
JASG 2016 supports 'War Child' + 'Save The Children'
  

War Child supports children affected by conflict
---
Tickets available on the door from 6:45 PM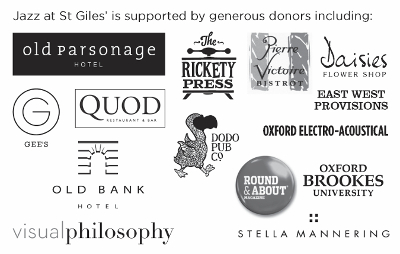 share: