Ben Holder Quartet and Julian Stringle (clarinet) – Benny Goodman Tribute
Saturday -
October
28,
2017
7:30
Ben Holder Quartet and Julian Stringle (clarinet) – Benny Goodman Tribute
Oxford
---

Ben Holder
Ben Holder is one of the most gifted and exciting young jazz violinists in the UK. Taught classically from the age of six, he studied at the Birmingham Conservatoire. During his classical studies, Ben began listening to Jazz - classic masters such as Benny Goodman and Oscar Peterson and of course the great jazz violinists including Grappelli, Joe Venuti and the awe inspiring Stuff Smith. Alongside his early studies and later at college he embarked on a detailed analysis of these musicians techniques and the way in which they merged this most classical of instruments into the jazz idiom.
Ben's innate sense of swing rhythm (something which often eludes classical players) stems from those early listening sessions - and his various awards bear testimony to his abilities. A first call jazz violinist for many of the North's top bands and studios.
JASG's Promoter Jean Darke writes "The astonishing jazz violin virtuoso BEN HOLDER, long time ''Gypsy Fire' favourite with JASG audiences, pays tribute to the great clarinet playing of  "The King of Swing" BENNY GOODMAN, FEATURING, with Ben's quartet the astonishing  young clarinettist JULIAN PRINGLE (" Amazing"- Sir Michael Parkinson; "A rare talent" - Sir John Dankworth). 'Bugle call rag" will keep you awake if you 'Ain't Misbehavin'.!!!"
Tickets: £15 /£12 (concessions)/ £5 (under 18 and students with ID)
---
Julian Stringle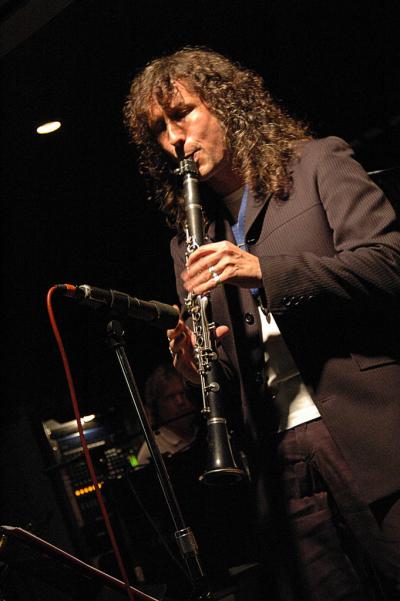 Julian Stringle was voted 'Best Clarinettist' at the British Jazz Awards 2006/7. His major influences have been Benny Goodman, Artie Shaw, Peanuts Hucko, Buddy De Franco, Eddie Daniels, Oscar Peterson - and Delius! Julian's highly melodic music and unique sound reaches the younger audience while his soul, original writing and phenomenal technique on his instrument excites the jazz aficionados.
He has played on concert, club, festival and broadcast dates with his own bands and with:- Peanuts Hucko, Wild Bill Davison, George Chisholm, Kenny Ball, Don Lusher, Kenny Baker, Cleo Laine & Sir John Dankworth. He has recorded with John Parricelli, Digby Fairweather, Danny Moss, Sam Brown, Roy Williams, Jim Mullen, Marc Almond, Tommy Whittle, George Melly, Joe Brown, Chas & Dave, The Grid and the Spice Girls! He has appeared at Wembley Arena with Meatloaf and in Monaco with Tina Turner.
"The best clarinettest to emerge in British jazz for decades" - Sir John Dankworth.
"Stringle's clarinet sound is exquisite; it has freshness, sparkle and a flute-like softness. At times he makes the clarinet sound re-invented. This breathtaking young clarinettist offers a future for the instrument in the jazz front line" - John Fordham, The Guardian.
---
share: