Brickwork Lizards – Turko/Arabian/Balkan
Saturday -
December
09,
2017
7:30
Brickwork Lizards - Turko/Arabian/Balkan
Oxford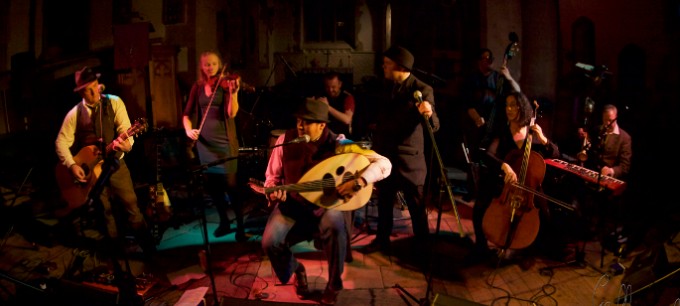 Brickwork Lizards performed at St Giles Church in 2016
Brickwork Lizards
---
UPDATE at 09/12/2017
The Brickwork Lizards concert has now sold out online. 20 tickets only will be available 'at the door'. First come - first served!
---
Brickwork Lizards are Oxford purveyors of the finest Turkabilly gyp-hop mashup, since 2005. We call it Turkabilly, as there's no easy way of describing the music we play. It combines Arab folk tunes, 1930s jazz, vaudeville, rap and hip hop. You might also hear elements of delta blues, mariachi or gypsy music. We're equally at ease playing high-octane rock gigs and in more intimate acoustic settings.
Our music is fun but thought-provoking, pure but simple. Have a listen to some of our tunes to find out what we mean.
JASG's promoter Jean Darke writes "Back by public demand!  This band's exotic and intoxicating Arabian/Turkish/Balkan/gypsy music, had, at their last 2016 appearance  in St. Giles, people dancing in the aisles - vicar Andrew said that was ok - jigging himself from time to time!! Extraordinary Arabian ouds and other unusual instruments and 'Eastern' vocals in evidence! What better way to celebrate a FESTIVE FINALE to what promises to be yet another successful, happy, relaxing and friendly (and fund-raising for charities) JAZZ AT ST GILES  2017 AUTUMN SERIES FIVE!!!!!"
Tickets: £15 /£12 (concessions)/ £5 (under 18 and students with ID)
SOLD OUT ONLINE - 20 only available on the door. First come, First Served.
---
share: