Oxford University Jazz Orchestra
Saturday -
November
12,
2022
7:30pm
Oxford University Jazz Orchestra
Oxford's Big Band
Oxford University Jazz Orchestra (OUJO)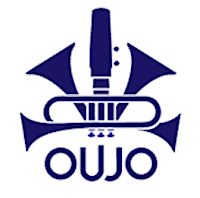 Online tickets are now sold out but there will be a few on the door from 7:00 pm
For technical reasons, the Donut Kings band is no longer able to play for us on 12 November, so their place has been taken by The Oxford University Jazz Orchestra who last played at St Giles' in the early part of 2022. Now they are back!
Founded by students in the early 1990s, notable alumni include Canadian jazz vocalist Diane Nalini, trumpeter and NYJO musical director Mark Armstrong, London-based trombonist Callum Au, saxophonists Carlos Lopez-Real and Idris Rahman, and ENO conductor Stephen Higgins.
OUJO has been a multiple-time winner at the BBC Radio 2 National Big Band Competition, and has performed at the Oeuf de Jazz Festival in Le Mans, the OK! Celebrity Ball in London, and the Bull's Head jazz venue in Barnes, west London.
A great evening is in store!
The 2021-22 OUJO group plays 'Much Too Much' by Bill Ashton, arr. Chris Smith. This recording came from their 'Jazz-Off ' gig with the formidable Imperial College Big Band at St Giles' Church, Oxford as part of their 'Jazz at St. Giles' series. Featuring Elizabeth Latham on Vocals and President Will Pearce on Trombone. We hope you enjoy!
Supporting Project 900 - raising funds for a new teaching and performance organ at St Giles' and for improvements to our facilities in the building.
share: