Pete Oxley/Nicholas Meier
Saturday -
November
19,
2016
7.30 pm
St Giles' Church Oxford
Pete Oxley/Nicholas Meier
Pete Oxley/Nicholas Meier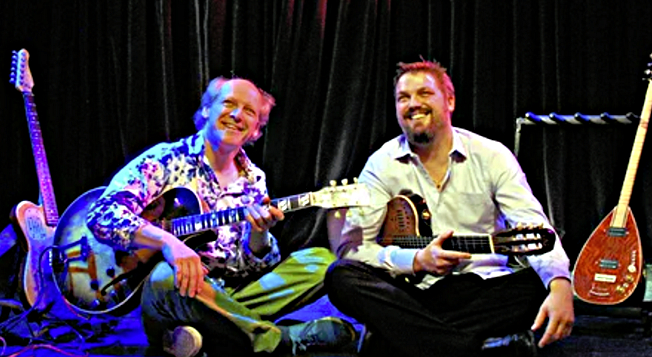 JASG's Jean Darke writes: "PETE OXLEY AND NICHOLAS MEIER'S fabulous guitar duo has long had a tremendous following leaving audiences gasping with disbelief at their thrilling duetting  (perhaps I should say 'duelling'?) from Bach, Latin American through to jazz standards and Pete's own compositions.  Since there is bound to a surge of audience numbers from Pete's "The Spin" jazz club (described by veteran MP and broadcaster on Radio Three jazz and Jazz Fm Kenneth Clarke - he of the blue suede shoes - as the "UK'S top Jazz club") better come early, or book now!!"
Meier's sound is rooted in his love of playing jazz on acoustic guitar, especially his Godin nylon string guitar. It's a sound that lends itself especially to flamenco and middle-eastern music and it's all these influences and more that Meier has so brilliantly fused together in his music. Expect a dazzling display of contemporary fare from the fab Pete Oxley and Nick Meir duo, ranging from Turkish panache to soundscapes of latin America to English pastoralism. Hear this played on nylon string, steel string, electric, 12 string, fretless, slide, guitar-synth, glissentar guitars and more! The Oxley-Meier Guitar Project aim to entertain by playing with a spontaneity and an intuitive interplay between them that keeps them fresh and fired up from gig to gig. The duo therefore comes to the performance with what they hope are the audiences anticipations: to expect the unexpected!
"These are two masterly guitarists, although very different in style. Oxley has been playing on the British jazz scene since 1997, with everyone from Stacey Kent to Gilad Atzmon ... Don't fall into the trap of assuming that this is something exclusively for guitar buffs, or even jazz buffs. If you love music of any kind you'll probably fall for this." (The Guardian)
We are very grateful indeed for the generous support of our various sponsors, including our next-door neighbours at The Old Parsonage Hotel and others.  See our 'Sponsors' page for more details. Sponsorship will help the 2016 JASG concerts to support 'War Child' and 'Save The Children' once again.
Tickets £12/£10 concessions/£5 students with ID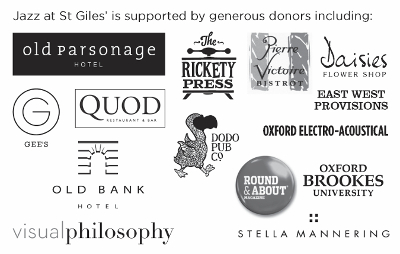 share: