The Oxley – Meier Guitar Project
Saturday -
October
08,
2022
7:30pm
(soundscapes from Turkey to Brazil)
The Oxley - Meier Guitar Project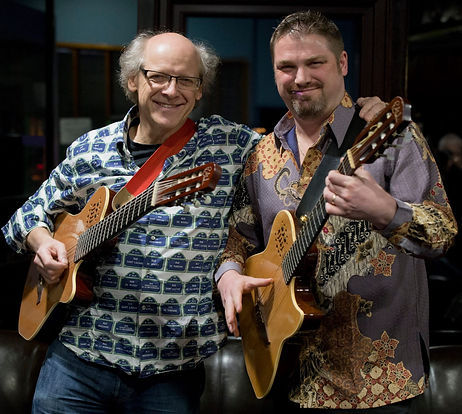 The Oxley-Meier Guitar Project has continued to be highly productive: following nearly 100 concerts on the back of their 2017 album, 'The Colours Of Time', they have recorded an "The Alluring Ascent", original pieces in their quartet format, but also featuring the great multi-percussionist, Keith Fairbairn. The Alluring Ascent Tour was 60 concerts. 2022 will see a new album and more dates.
Pete Oxley ~ Guitar​
Pete began his musical career in Paris in the mid '80s before relocating to the UK in 1997. Shortly afterwards he opened The Spin jazz club in Oxford which in 2012 won the Parliamentary jazz award as 'The Best Jazz Venue In The UK'. Pete regularly performs with some of the world's leading jazz artists including Chris Garrick, Gilad Atzmon, Tim Whitehead, Dave O'Higgins, John Etheridge and his own band Curious Paradise. He has now released 14 critically acclaimed CDs featuring his original compositions.
As a composer, Pete was selected as one of only a handful of British jazz musicians to have his compositions included in the definitive 'European Real Book' (Sher Music). www.peteoxley.com
Nicolas Meier ~ Guitar
​With his unique style that is a blend of Metheny-esque jazz and Turkish inspired world music, Nick has toured extensively around the world with his band the Meier Group. This wonderful band (featuring sax maestro Gilad Atzmon and Dave O'Higgins) won the overall prize for 'best band' at the Juan-les-Pins jazz festival!
​His recent album Kismet is a wonderful heady mixture of Flamenco, jazz, Latin and Middle Eastern music. His prodigious jazz talent is matched by his other great passion: playing heavy metal guitar in his scorching group 'Seven7'.
​Nick was, for the last three years, guitarist in guitar supremo, Jeff Beck's band, with whom he toured all over the world, performing at major venues and festivals. He has recently recorded a stunning album with the A-lister rhythm section of Jimmy Haslip (Yellowjackets) and Vinnie Colaiuta (Sting, Frank Zappa etc.). www.meiergroup.com
share: