David Gordon
Saturday -
October
09,
2021
7:30pm
Piano Trio
David Gordon
Tickets available for in-person attendance or online only.
Tickets: In person attendance: £20.00, Online view £5.00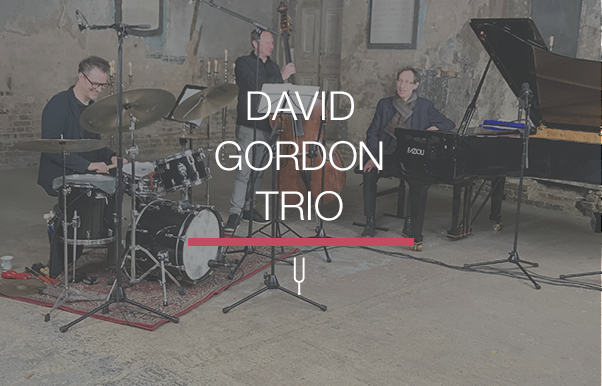 The David Gordon Trio is a London-based piano-led group that despite having a fan club in Japan, the US and elsewhere, is one of the UK's jazz scene's best kept secrets.  Their most recent recording, Alexander Scriabin's Ragtime Band, was named Jazz CD of the Year by Mojo magazine, and described in one publication (Stereopluss, Norway) as 'one of the finest trio records I have heard in a very long time'.
The trio has toured Denmark, Italy and around the UK, played at various jazz festivals, and appeared on BBC Radio 3 and Jazz FM.  Taking melody, jazz improvisation and composition to a new level, their joyous music is compelling listening, combining witty interplay with hauntingly beautiful melodies, classical references with deep grooves.
David, who is described by JazzFM's David Freeman like this: 'he doesn't play many notes, but the notes that he does play are almost the selection of a genius', is also an award-winning composer, and his tune 'Angel Feet' is published in Sher Music's The European Real Book. The trio also features two giants of the London jazz scene, bassist Oli Hayhurst and drummer Tom Hooper.
In the forthcoming Oxford date, they will play material from their soon to be released CD, entitled Pachyderm - which marks a return to the group's original compositions, flecked with occasional unfusty references to Bach and the baroque - as well as some of the trio's golden oldies.
Join our mailing list to be kept in touch,
Our Sponsors for this series are:
Thanks also to our generous 'in-person' sponsors
share: